later post  |  index  |  earlier post
Best second-hand family car
  Monday, 17 August 2020
In the past, driving a used family car often meant spending miles in a mediocre hatchback, stuffed to the brim with baggage and uncomfortable family members. Nowadays, buying a second-hand family car doesn't need to mean compromising roominess, reliability or comfort.
ASM has compiled a list of the best used family cars to help you on your search. Many are celebrated vehicles with strong used values, so you will see a fair spread of approximate prices. It is, however, entirely possible to find an economical and reliable vehicle for under £10,000 with a little patience and a look in the right places. If your budget for a used family car is under £2,000 then head to the bottom of our list.
The best family cars to buy. Click on a model to jump to more information
Our criteria for the list
A family car should be judged on its overall flexibility, combining drive quality with practicality, style with comfort. Fortunately, there's a wide range of choice, with many family cars on the second-hand market available for low prices.
In this article, as part of our series on used cars, we've compiled some of the top bargains to look out for. Each vehicle was judged on:
Space
Fuel efficiency
Running costs
Value for money
The cars are organised here from the most expensive to the most affordable.
Audi A3
Price from approx. £5,000 - £10,000
A much-loved vehicle, recipient of numerous family car awards, the Audi A3 can be tricky to find at bargain prices, but not impossible. If you are willing to pay more cash for this car (perhaps exceeding £10,000), you won't be disappointed. You'll have no trouble finding a model with the space you need for the whole family, with high-quality interiors and exceptional handling practically guaranteed.
Running costs for the A3 are low, it has stop-start functionality and weight-saving measures such as the use of aluminium and high-strength steel in the structure helping to reduce the fuel consumption and emissions.
Air-con, 16-inch alloys, Bluetooth, LED daytime running lights, Apple CarPlay, and cruise control are all available and in terms of safety, plenty is included as standard (model dependent). This can include stability control and a pop-up, pedestrian-friendly bonnet on the SE model. The Audi A3 has been awarded a five-star crash test rating from Euro NCAP, too.
Honda Civic
Price from approx. £3,000 - £10,000
The Honda Civic has an almost unrivalled reputation when it comes to reliability, with relatively low fault reports owing to excellent engineering and build quality. With the release of the tenth-generation Civic, many older models began appearing on the used market.
While the steering and ride quality may pale in comparison to some others, ageing models (circa 2012) nevertheless offer expansive boot space, including foldaway 'magic seats', and high standards of dependability.
The Civic's standard safety kit for a 2012 model includes anti-lock brakes, stability control, and an ignition disable device that will prevent the engine from starting if the correct original manufacturer key is not used. For later model's safety information, Euro NCAP has a dedicated page to the Civic, here.
Škoda Octavia
Price from approx. £2,500 - £10,000
Across all key metrics of family car quality, the Škoda Octavia delivers. While it isn't the most stylish car around, and the suspension can be noisy, the composed, comfortable handling is more than enough compensation.
Offering an abundance of legroom and boot space for luggage and passengers (well in excess of others in its price range), the Octavia is an excellent choice. Current Octavia models retain this vehicle's reputation for safety with a five-star Euro NCAP safety rating and Škoda has a consistently excellent customer satisfaction record for reliability.
Some Octavia models also come with a range of basic equipment: from air conditioning to rear parking sensors. An Ambiente model comes complete with all the basics including climate control and alloy wheels, while the Elegance model's trim adds cruise control and parking sensors. Laurin & Klement versions come with an automatic gearbox and leather upholstery.
It is important to note that if you're buying a used diesel Škoda Octavia, the diesel particulate filter must be regularly cleaned, as a clogged one can be expensive to replace.
Volkswagen Golf
Price from approx. £2,000 - £10,000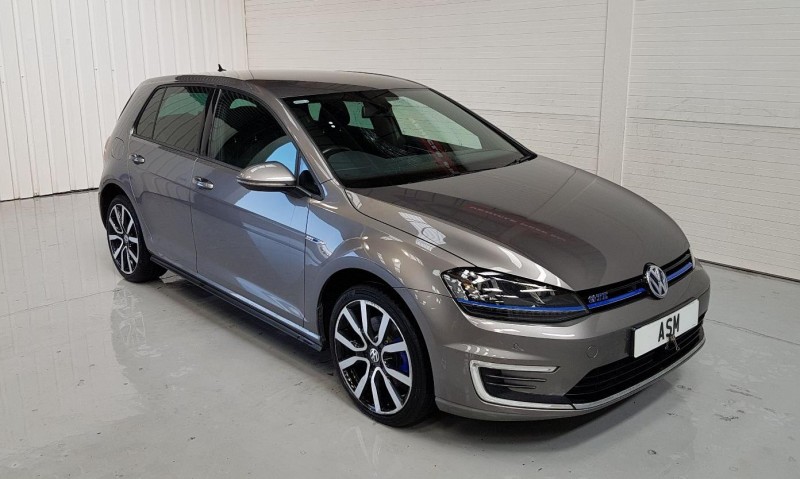 Like many on the family car list, the VW Golf's ongoing popularity can make bargain-hunting a difficult task. Fortunately, this limited depreciation can be good news if you come to resell. With timeless style and a healthy mix of comfort and dependability, the Golf has set a high standard for family and commuter cars.
Reviews are always positive for the Golf's dashboard, with major controls in all the right places and storage isn't an issue, with a boot large enough for the family weekly shop or buggy. CO2 emissions are kept low thanks to equally impressive consumption figures, so expect most versions to fall into the £20 or £30 tax bracket.
At our recommended budget, you'll be able to choose from a good selection of 2015 and 2016 Golfs, but 2017 and 2018 models are more likely to fall between £11,000 to £15,000. For GTI versions, expect to pay premium prices.
Keep an eye out for high-mileage models to buy, and you may end up with a fantastic all-rounder with all the space and reliability needed from a family vehicle.
BMW 1 Series
Price from approx. £2,000 - £10,000
With a 1 Series purchase, you can experience all the joys of driving a BMW in an impressive family hatchback package. However, for the sharp steering, smooth handling, and engine efficiency worthy of any driving enthusiast, you may lose a little bit of boot space and legroom in trade.
Some report that the five-door model can be a little narrow for a child seat, however boot space is consistently praised, which is good news for buggy owners and the weekly family shop. Safety wise, the 1 Series has always been highly recommended, with the 2012 model receiving a 5 Star Euro NCAP rating.
As always, the BMW 1's popularity means you may have to hunt for comparatively older models, potentially diesel-engined, if you're seeking the cheapest possible deal.
Kia Ceed
Price from approx. £2,000 - £6,000
Some older models may be showing their age but, with low prices and ample equipment, the Kia Ceed can represent a striking bargain. The seven-year 100,000-mile warranty can be additionally enticing.
The driving experience, in terms of steering and agility, may not blow anyone away. On the other hand, the ride is comfortable, quiet, and there's also plenty of room for three passengers in the back.
Entry-level '1' models have 15-inch steel wheels, heated door mirrors, front electric windows, and hill start assist as standard. Air con, Bluetooth and USB connectivity are standard for the interiors. Being aimed at families, the Ceed offers ample boot space, with an extension possible if you fold the rear backrests. Doors open wide for easy access with a child seat or buggy.
High-mileage used models often dip below £3,000, so keep an eye out for this functional and practical car.
Vauxhall Astra
Price from approx. £1,000 - £9,500
Due to Vauxhall's popularity with fleets, a good supply of used Astras ensures used market values stay relatively low compared to others in this category. For this reason, the Astra offers great value for money, while also being well-known for its spaciousness, comfort, zippy handling and fuel economy.
Petrol engines may be lethargic, and diesel engines may be on the noisy side, but you get a whole lot of well-rounded car for your cash with a Vauxhall Astra.
Many Astra models are praised for their innovative technology, which helped win it European Car of the Year for 2015, plus its diesel version, particularly the 1.6 litre, is very economical to run.
Spacious back seats and boot make this a family favourite, with little issue fitting children's car seats, buggies and the weekly shop (although perhaps not all at once).
Ford Focus
Price from approx. £1,000 - £5,000
The most popular family hatchback in the UK, the Ford Focus is widely available on the used market with a great variety of choice. If your budget can stretch further than a second-generation model, you'll certainly end up with a vehicle that's comfortable, capable and spacious for passengers while offering impressively cheap running costs.
While the boot is a tad small you can still fit a large pram if necessary and the nearly flat rear floor makes for added comfort for any middle seat passengers. The back of the Focus is easily spacious enough for taller passengers to sit behind the driver.
All Focus models come with an alarm and immobiliser, plus Ford Focus cars achieve consistently high safety ratings from Euro NCAP. The Focus is a common favourite on end-of-year lists, renowned for offering reliability and great value for money.
SEAT Leon
Price from approx. £1,000 - £10,000
The SEAT Leon shares many qualities with the Golf and Octavia, based on the same fundamental platform. While the Golf may have aged better, the Leon has nonetheless established a solid reputation as a fast, fun, practical and affordable family hatchback.
The performance models like the FR and Cupra offer terrific performance and handling, but all Leons are praised for their practicality and spaciousness for a family car. There's also a wide range of engines to choose from, from a 1.2-litre petrol engine up to a 296bhp 2.0-litre in the Cupra model. A 2017 version of the SEAT Leon will come with the upgrade of a larger, touchscreen infotainment system and electronic handbrake.
The Leon is generally more affordable than the alternatives, without compromising any upfront benefits in terms of either aesthetics or driving style.
Prices correct as of August 2020.
ASM can help you find the best used family car
These are some of the most popular and reliable cars available on the used market and we hope you found this guide helpful.
ASM provides regular online auctions supported by our site in Thame, Oxford. With an expansive range of repairable used family cars in stock, you may find the exact bargain you're looking for. For help buying used cars at online auctions, read our full guide.
We also buy unwanted used cars to be scrapped, recycled, and resold where possible. Simply contact us today to discuss your needs.
later post  |  index  |  earlier post
---