later post  |  index  |  earlier post
Car CO2 Emissions
  Friday, 24 April 2020
Ever wondered what carbon dioxide (CO2) emissions are generated by your vehicle? You might not be aware that CO2 emissions can influence the amount of car tax you pay, as well as the rate of company car tax for fleet users. Discover how much the average car CO2 emissions is and how much it can differ between new and used cars.
Within our comprehensive car CO2 emissions guide, we'll also discuss the vehicles that emit the lowest levels of CO2 emissions and the public opinion on driving eco-friendly cars on our roads.
Contents:
---
Car CO2 emissions
Did you know? Transport is said to be the biggest contributor to CO2 emissions in the UK, emitting a third of all CO2 into our atmosphere. Throughout the history of the Earth, CO2 emissions have been emitted naturally as a consequence of respiration and decomposition. Historically, these naturally occurring CO2 emissions have been kept in check by our planet's wider ecosystem, reabsorbing it into the world's natural cycle.
Nevertheless, man-made emissions have resulted in a surplus of CO2 emissions into the Earth's atmosphere, causing climate change that could potentially be irreversible for generations to come. It's for this reason alone that the UK and other nations around the world have made a conscious decision to reduce the level of CO2 emissions from road vehicles.
In the UK, the average CO2 emissions per vehicle in 2018 amounted to 125.1g/km. CO2 emissions are measured in weight. They are calculated in grams as to how much CO2 is emitted from your vehicle's exhaust for every kilometre driven – hence 125.1g/km.
The latest goal for average CO2 emissions in the UK is to reach 95g/km across the UK by 2021.
Yearly CO2 emissions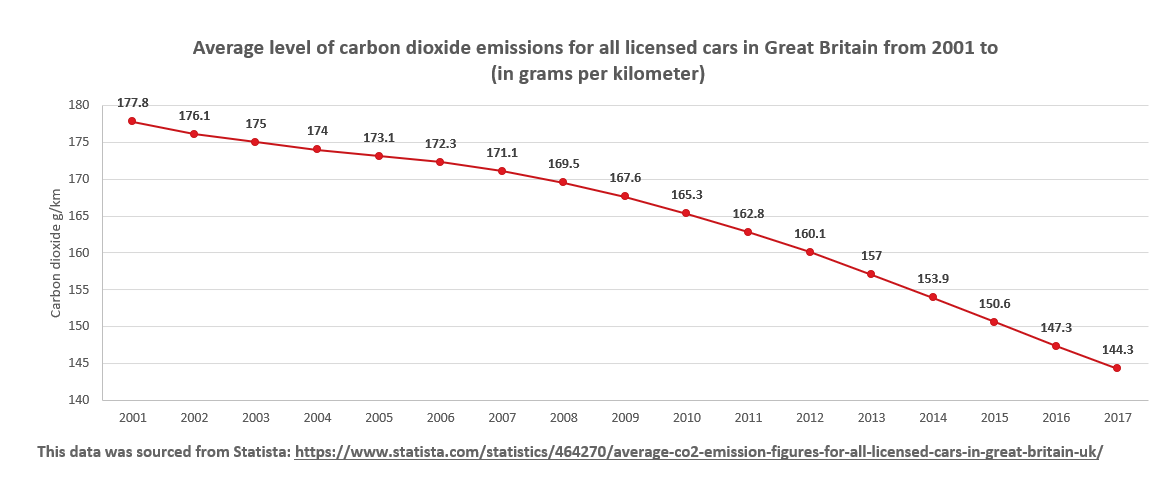 It's pleasing to see that the curve for average CO2 emissions in the UK is becoming steadily shallower as the years tick by. The base chart displayed above shows that in 2001, the average CO2 emissions for licensed cars in the UK were 177.8g/km. Fortunately, they have fallen each year since.
Whether it will fall enough from 125.1g/km in 2018 to 95g/km in just three years remains to be seen. It would seem somewhat fanciful when you take into consideration a recent report of the best-selling European car brands ranked by average CO2 emissions by Jato Dynamics. It was discovered that only one of the top 20 car manufacturers recorded average CO2 emissions of less than 100g/km – Toyota. This suggests there will need to be a marked improvement among all other car manufacturers to hit the 95g/km average emissions mark in the UK by 2021.
Norway is streets ahead of the rest of the world when it comes to keeping a lid on man-made CO2 emissions. Norway's average CO2 emissions in 2018 were calculated at just 72.4g/km per vehicle, down from 83.7g/km in 2017. It is said there are more than 200,000 fully electric vehicles (EVs) now operational on Norway's roads, making up approximately 7% of the nation's overall vehicle fleet. The nation's infrastructure should also be applauded, with some 11,000 EV charging points made accessible to the general public.
CO2 emission bands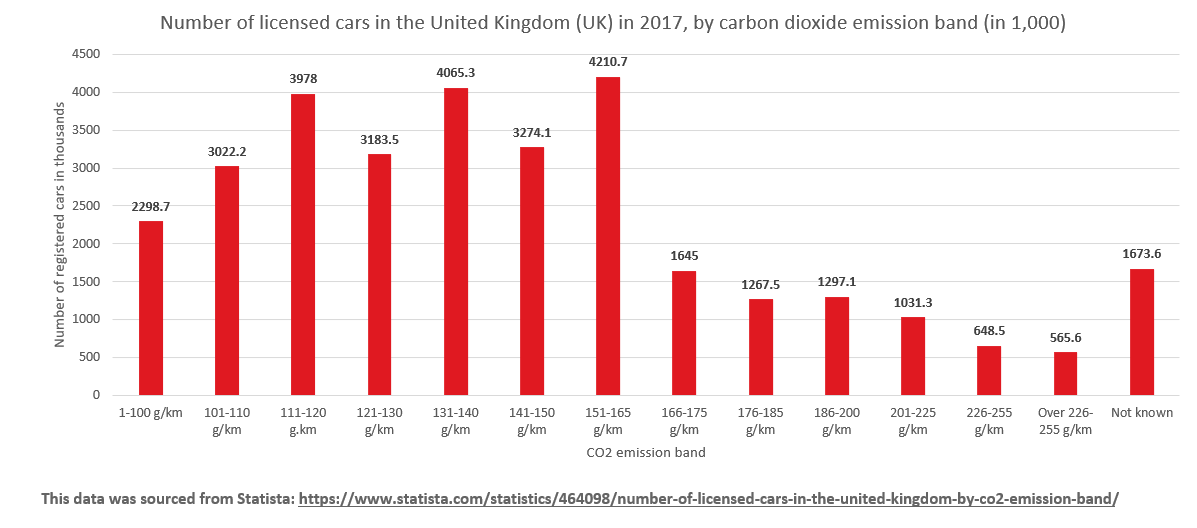 The graph above reveals the 13 different car CO2 emission bands that exist in the UK today. The bar graph covers the number of licensed cars on UK roads within each CO2 emission band. It seems that the most common CO2 emission band for UK road vehicles is 151-165g/km, with over 4.2 million vehicles emitting CO2 levels in this bracket. That is closely followed by the 4.06 million vehicles that emit CO2 levels between 131-140g/km.
There are six car CO2 emission bands containing more licensed vehicles than the most carbon-friendly 1-100g/km bracket. Just under 2.3 million licensed vehicles operate in the lowest CO2 emission band across the UK.
All cars registered between 1st March 2001 and 31st March 2017 that generate less than 100g/km in CO2 emissions do not need to pay a penny in UK vehicle tax. Those registered after 31st March 2017 will have to consider the five following tax bands relevant to vehicles in the 1-100g/km bracket:
| CO2 emissions (g/km) | Diesel vehicles that meet RDE2 standards and petrol vehicles | All other diesel vehicles | Alternative fuel vehicles |
| --- | --- | --- | --- |
| 0 | £0 | £0 | £0 |
| 1-50 | £10 | £25 | £0 |
| 51-75 | £25 | £110 | £15 |
| 76-90 | £110 | £130 | £100 |
| 91-100 | £130 | £150 | £120 |
CO2 emission trends by fuel type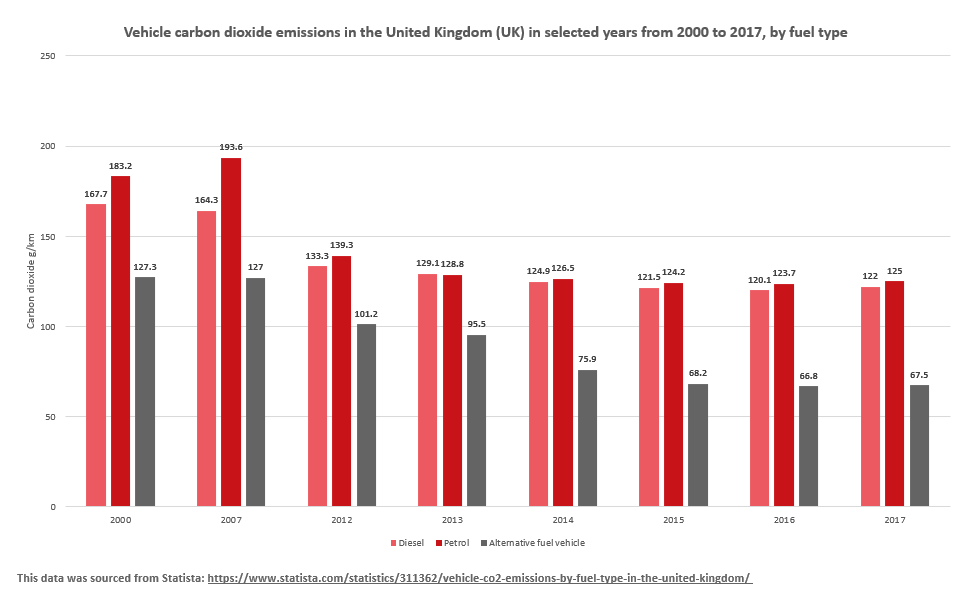 It's fair to say there was a marked decline in car CO2 emissions for petrol vehicles between 2007 and 2012. In 2007, average CO2 emissions for petrol vehicles in the UK came in at 193.6g/km, compared with just 139.3g/km in 2012 – a decline of just over 25% in five years. The carbon friendliness of diesel-powered vehicles in the UK also experienced an improvement in the same 2007-2012 timeframe, down from 164.3g/km to 133.3g/km, which is a decline of just under 20% in five years.
However, there is a growing concern that both petrol and diesel vehicles in the UK have experienced something of a plateau in average CO2 emissions since 2012. Despite continued declines in CO2 emissions between 2012 and 2015 for petrol and diesel vehicles, average emissions were once again higher in 2017 than 2015. This is very difficult to account for, particularly with ambitious average CO2 targets set for vehicles on Britain's roads.
Although petrol and diesel vehicles appeared to level out their CO2 emissions between 2015 and 2017, alternative fuel vehicles continued to experience a decline in emissions, averaging only 67.5g/km in 2017. The alternative fuel category does not include hybrid vehicles. It only covers fully electric vehicles as well as those powered by steam, hydrogen, biofuel and kinetic energy.
When comparing diesel and petrol vehicles, it must be said that diesel cars produce considerably more nitrogen oxide (NOx) and nitrogen dioxide (NO2) than their petrol counterparts. Which? recently revealed that diesel cars generate as much as 11.5 times more NOx than petrol cars, so even though some diesel cars may generate fewer CO2 emissions, the NOx emissions can counterbalance this at times.
Should you choose a low CO2 emission car?
The 'trend' of vehicles that emit greatly reduced levels of CO2 is driven by a two-pronged benefit to motorists across the country. First and foremost, the decision to drive low emission vehicles reduces an individual's carbon footprint, with greener alternatives reducing the impact of a vehicle's regular use on the wider environment.
The UK government has launched the Office for Low Emission Vehicles (OLEV) that is doing everything it can to support the ultra-low emission vehicle (ULEV) industry. Some £900 million has been made available to position the UK at the global heart of ULEV development, manufacture and responsible usage; with a long-term view to limiting greenhouse gas emissions and air pollution for good.
ULEVs are typically defined as road vehicles that emit fewer than 75g of CO2 per kilometre. Many of which are powered, at least partly, by electricity. Driving a ULEV can help reduce the overall cost of driving for domestic and commercial drivers. That's because there are a growing number of tax benefits to owning ULEVs:
Unsurprisingly, no fuel duty is levied on vehicles that operate using electricity or hydrogen via a fuel cell.
Vehicle Excise Duty (VED), or car tax as it is more commonly known, is scrapped for zero emission vehicles valued at £40,000 or less. Zero emission vehicles are those deemed to emit less than 100g of CO2 per kilometre.
Plug-in electric vehicles are available for only 5% VAT for domestic, non-business and charity use.
If you choose to own a vehicle emitting less than 75g/km CO2, you will also be exempt from London's congestion charge. All electric vehicles are exempt from the charge as well, providing the vehicle's V5C logbook states the car is 'electric'.
Although CO2 has not been proven to offer a direct risk to your health in the same way as NO2 and particulates, curbing greenhouse gases is vital to decelerate global warming and keep global temperatures as close to pre-industrial levels as possible.
Public opinions on low CO2 emission cars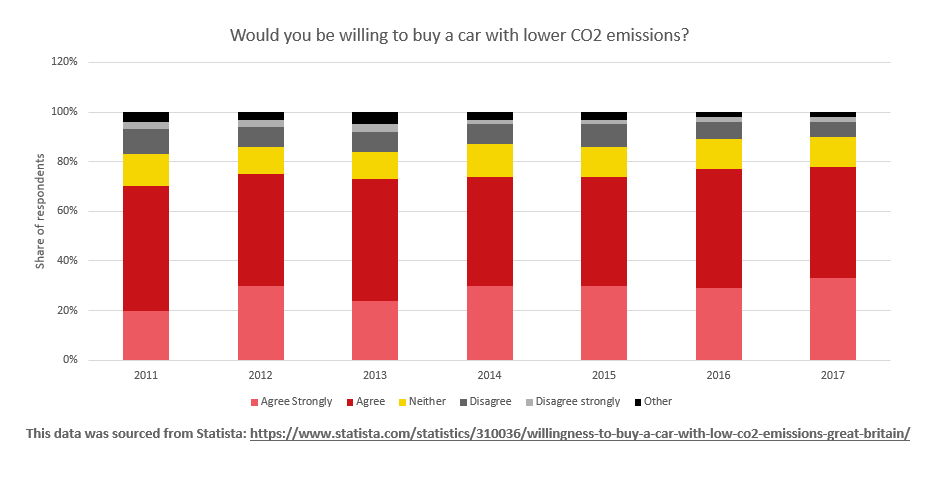 According to the above survey of British motorists on their willingness to buy and drive low CO2 emission vehicles, there has been a marked increase of those who strongly agree with the idea, up from 20% in 2011 to 33% in 2017. However, when you combine both 'Strongly agree' and 'Agree' respondents, this equates to 70% of UK motorists in 2011 and 78% in 2017. This means there has only been an 8% rise in the number of people who positively acknowledge the benefits of low CO2 emission vehicles in the last six years.
Although more than three-quarters of British drivers now agree that owning and using a low emission CO2 vehicle is a good idea, just one-in-four are planning to buy fully electric vehicles in the next five years. That's according to one of the largest studies into UK consumers and fully electric cars, conducted by the Transport Research Laboratory.
The research found that only half of all consumers surveyed would consider a fully electric vehicle with a range of 200 miles. However, this figure rose to 90% if a fully electric vehicle had a range of 300 miles.
Many leading UK motoring groups also criticised the government's decision to end subsidies for the purchase of 'green' cars, scrapping grants for new plug-in hybrids, whilst cutting discounts on fully electric vehicles from £4,500 to £3,500. In the Transport Research Laboratory's study, it was found that cost was deemed 'very important' and 'extremely important' by over 85% of all respondents, so it's clear that attitudes towards ULEVs may be warmer once prices start to fall in the mainstream market.
CO2 emissions by vehicle segment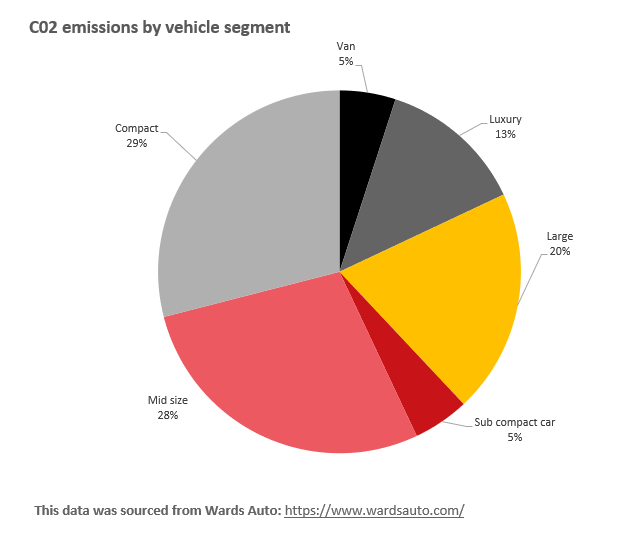 This segmentation of the most carbon efficient road vehicles underlines that compact and mid-size vehicles tend to offer the lowest CO2 emissions. This might not be a surprise when you consider that larger, heavier cars require more power – and fuel – to keep moving at the same speed on the road.
The challenge for the automotive industry is to therefore build larger SUV-style vehicles that can combine luxurious space and efficiency in one neat package. The technology is steadily getting there. Advanced stop-start systems are allowing larger engines to turn off when stationary, while some vehicles now offer cylinder deactivation, running using fewer cylinders depending on the weight of the vehicle load.
Gearboxes have undergone significant improvements through the years, with twin-clutch boxes offering more efficient gear changing. Meanwhile it's not uncommon for automatic vehicles to be fitted with eight-speed transmission to ramp up fuel economy and minimise tailpipe emissions. AdBlue diesel technology is also helping to treat exhaust gases. The urea-based solution works to limit the amount of NOx gases emitted into the atmosphere.
CO2 emissions cars rank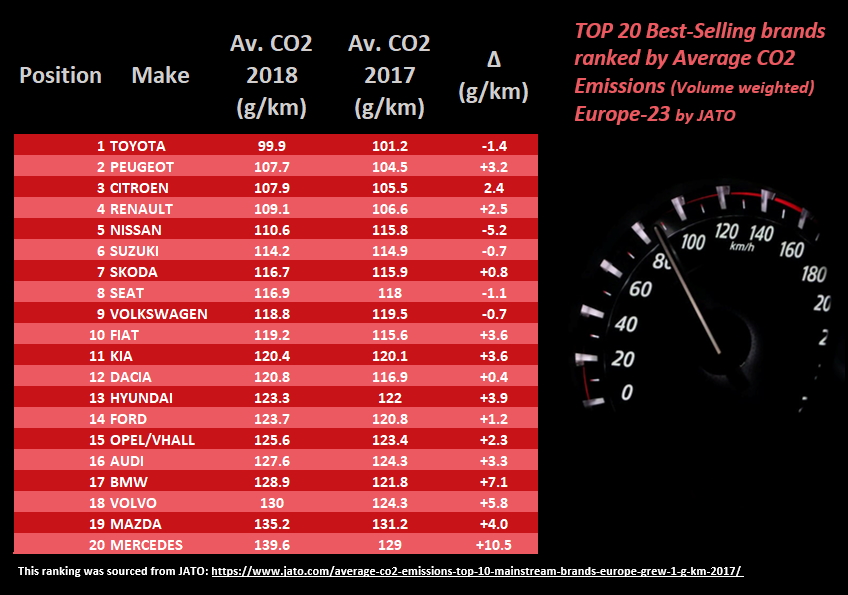 Despite the global commitment to reducing average CO2 emissions from road vehicles, only five of the top 20 car manufacturers managed to reduce their average CO2 emissions per vehicle year-on-year in 2018.
Nissan registered the biggest decrease of 5.2g/km, down to 110.6g/km from 115.8g/km. As we've already discussed, Toyota was the only car manufacturer on the planet to register average CO2 emissions below 100g/km, rendering the average Toyota vehicle now free from car tax in the UK.
All of this goes to show that the automotive industry still has a long way to go to achieve the net zero emissions targets. The UK is committed to a legally binding target of net zero emissions by 2050. In doing so, it has also committed to ending sales of diesel and petrol vehicles by 2040, so electric vehicle adoption will need to hit the mainstream sooner rather than later to achieve this goal.
Looking to scrap your old car for a new low CO2 car?
If you currently own an older diesel or petrol vehicle that is costing you an arm and a leg in terms of fuel and car tax, it might be time to scrap your car in favour of an alternative low CO2 emissions vehicle.
Older, inefficient vehicles - like the one you may own - need to be phased out sooner rather than later to limit the effect of greenhouse gases on climate change; protecting nature and the wider environment for generations to come.
At ASM Auto Recycling, we've been recycling older, inefficient vehicles for more than 35 years. As a permitted Authorised Treatment Facility (ATF) we process all end-of-life vehicles in our state-of-the-art vehicle dismantling facilities to responsibly remove and store potential toxins and set aside used car parts that can be reused again on other vehicles.
Better still, we can pay you an industry competitive price for your scrap vehicle. It doesn't matter whether it has failed its recent MOT or is even a non-runner, we offer a salvage car collection service from our main hub in Thame, Oxford, retrieving your car at a time and location to suit you.
With prompt collection and immediate payment, discover your car's scrap value today using our free car scrap valuation calculator.
later post  |  index  |  earlier post
---