Our Scrappage, Recycling and Car Blog
later post  |  index  |  earlier post
How do I get my car back on the road after SORN?
  Monday, 25 October 2021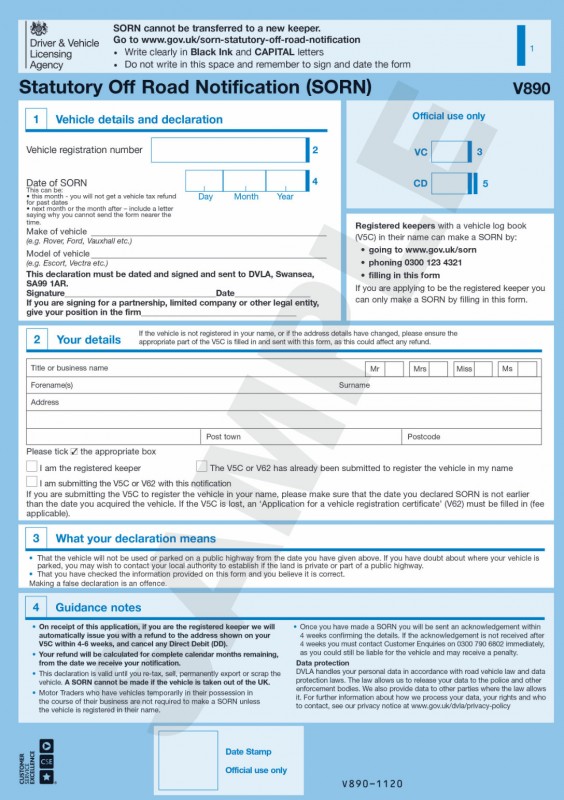 What is SORN?
SORN stands for Statutory Off Road Notification. It's when you take a vehicle 'off the road', meaning you no longer intend to drive it, so it doesn't require tax or insurance. You can find out more about this here.
How do I get my car back on the road after SORN?
If you have previously declared SORN on your car, but have decided to return it to the road, the main thing you need to do is get the vehicle taxed again using the 11 digit reference number on the V5C. This can be done online, by phoning the DVLA, or in some Post Office branches.
After taxing your car, you will also need to ensure that you have a valid car insurance policy in place and that it has an up-to-date MOT before you start driving again.
When will my SORN expire after I decide to put my car back on the road?
As soon as you apply for tax for your vehicle, your SORN will expire and you will be able to put your car back onto the road once it has been fully insured.
Can I drive my car to a garage for an MOT if it has a SORN?
Providing you have booked an MOT before driving your SORN car, you will be able to drive it to a garage for the appointment. However, it's vital to ensure that you have made the appointment first because if you're stopped on the way, the garage will be able to verify the car is coming in for an MOT.
If you are driving a car declared as SORN to a testing appointment, you may only drive it on a public road. If you are caught driving a SORN vehicle under any other circumstances, you are in danger of receiving a fine of up to £2,500.
What happens if I buy a SORN vehicle from a previous owner?
If you buy a car which has been registered as SORN by the vehicle's previous owner, it is important to note that the SORN status will not transfer. This means that if you decide that you want to keep the vehicle off the road, you will need to re-apply for SORN.
If you're already registered as the vehicle's owner or legal keeper, you can apply for SORN by contacting the DVLA on the phone of using the online or postal form. If you aren't registered as the vehicle owner before applying for SORN you can only apply by post after completing the applicable section in the V5C logbook or by filling in a V62 if you don't have the log book.
Get in touch today!
If you have a question about getting your car back on the road after SORN, give ASM Auto Recycling a call today on 01844 268 940, or send an e-mail to admin at asm-autos dot co dot uk: we'll be happy to help.
later post  |  index  |  earlier post
---