Our Scrappage, Recycling and Car Blog
later post  |  index  |  earlier post
Motorists call for tougher phone driver penalties
  Monday, 22 August 2016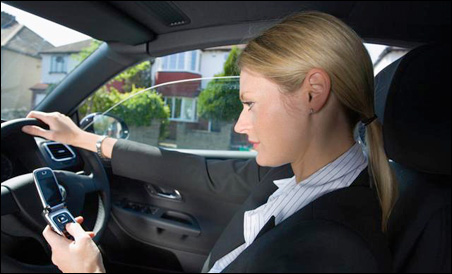 RAC researchers revealed almost half of motorists believe the current combination of a fine and points for illegally using mobile phones whilst driving is insufficient for a punishment.
Over 2000 motorists were surveyed, with 52 per cent feeling that the current penalty of three points and a fine of £100 for phone-using drivers should be increased. Only 41 per cent of respondents believed that the current penalty is sufficient.
However, nearly a third of respondents did not believe that changing the penalty would alter the behaviour of those motorists who are happy to break the law in this manner.
Of the 52 per cent of motorists that believe the penalty is not enough, a fifth (21 per cent) believe that both the number of penalty points issued and the fine should increase. 12 per cent believe the just the fine should rise and 6 per cent stated that an increase in points would be enough.
One-in-ten (11 per cent) respondents took a harsher view, believing that disqualification from driving was the only course of action likely to actually have an effect on driver behaviour.
Over two-thirds of the motorists surveyed by RAC stated their wish for more police officers on the road in order to catch offenders.
Survey respondents offered a number of strong views, with 76 per cent believing mobile phone users were putting other people's lives at risk and 60 per cent calling the use of a handheld phone whilst driving 'selfish and irresponsible.'
Almost two-thirds (61 per cent) of respondents who believed the offence should carry a higher fine called for an increase to at least £200 and 36 per cent believed it should be at least £450. Of those who called for an increase in penalty points, 61 per cent called for a rise to 6 points, with 14 per cent in favour of more than this.
On 15 March this year, the Government closed its consultation on raising the fine from £100 to £150 and on increasing the penalty points for non-HGV drivers from three to four. The results of the consultation are due to be published imminently, with motorists around the UK keen to see the results.
Just over a quarter (27 per cent) of respondents to the RAC survey said they believe the changes are a good idea, with a 61 per cent majority believing that the legislative changes would have no impact on the minority who continue to use their mobile phones whilst behind the wheel.
Simon Williams, RAC spokesman, said: "There is a very strong feeling from law-abiding motorists that something needs to be done to make drivers stop using their phones while driving.
"But while people want the penalties for committing this offence to be beefed up there is also an acceptance that nothing is likely to change due primarily to a lack of enforcement.
"From 2010 to 2015 England and Wales experienced a 27 per cent decline in the number of roads police officers.
"The number of fixed penalty notices issued for using a handheld phone while driving reduced dramatically from a high of 125,500 in 2009 to 52,400 in 2012.
"In line with this, our own research has found that motorists believe there is little chance of being caught by a police officer (as opposed to a camera) for a driving offence."
later post  |  index  |  earlier post
---