Our Scrappage, Recycling and Car Blog
later post  |  index  |  earlier post
What to check when buying a used car
  Friday, 19 February 2021
Whether you're looking for your dream car or trying to find a cheap runaround, buying a used car is a great way to upgrade your current vehicle without breaking the bank.
When you're buying a car privately you won't have the same legal protection as you would if you were buying from a dealer, so it's important to know which questions to ask and what items to check for when you're viewing a used car.
From basic mechanical checks to ensuring you have all the correct documentation; our checklist covers all the essential things you need to know and ask before purchasing a used car.
Documentation
The most important document needed when you're buying a used car is the V5C (also known as the logbook or V5), as without it you can't insure the vehicle. When checking the logbook make sure that the car you're buying and the number plate match up with what's noted down in the V5.
The V5 will tell you how long the owner has had the car and how many previous owners the car has had. If the seller fails to produce a V5 or the details in the V5 don't match up with the vehicle, you should question this.
You can now check a car's MOT history online but having an MOT certificate is still useful. Make sure you check how long the car has left on its MOT and make note of the advisories suggested by the tester as these could be a good indication about whether a seller is trying to shift the vehicle before the bills become too big.
HPI Check
Before buying a used or second-hand car, it's always worth getting an HPI check (hire purchase investigation) done. Carried out by a specific company, an HPI check uses information from the police, DVLA, and leading industry bodies to tell you more about a vehicle's history. Having an HPI check done is a good indication about whether it's worth purchasing that specific car.
An HPI check reveals any outstanding finance on the car, whether it may have been stolen, if it's been written off as the result of an accident leaving it unsafe to drive, and whether the V5 document accompanying a vehicle has been stolen or not.
The car's identity is also checked, so you can get a better idea of whether the car's history matches the seller's story. If there is any discrepancy between the HPI check results and the vehicle's history according to the seller, it is worth being cautious and consulting an expert before proceeding with the purchase.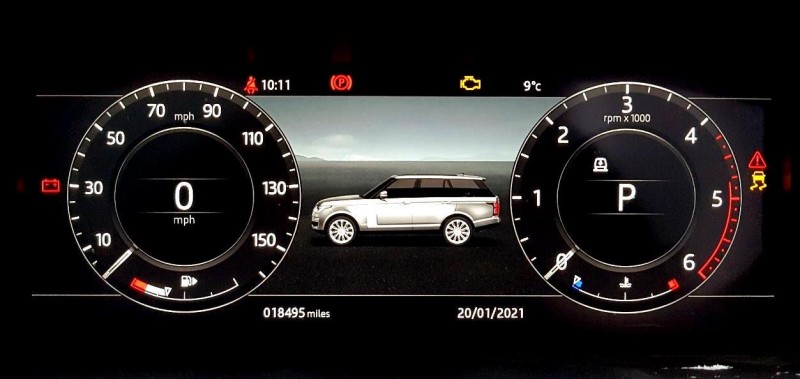 Mileage
Mileage is an important factor to check when buying a used car, although it's often one of the things which is easiest to overlook.
Low or high mileage not only affects the value of the car at purchase and sale but also impacts how much you will need to spend servicing and maintaining it, which could be something to consider before you buy.
Low mileage cars are any vehicles with fewer than 60,000 miles after five years. Anything above 70,000 is considered high-mileage. If you are viewing a car which has high mileage, this is a good negotiation point for the price.
Although you can save a lot of money upfront by buying a higher mileage car, you may need to spend the money you save on repairs, so make sure to check the car carefully and find out the reason for selling before you make a purchase.
Under the bonnet
Another important area to check when buying a used car is under the bonnet. There should be no holes or leaks in the bonnet or leaks when the engine is running. To check the shock absorbers, push down into the bonnet and the release. If the car bounces after you've done this, that means the shock absorbers are worn.
You should make sure that the oil, brake fluid, and power steering are all up to standard and that the coolant levels are in good condition.
When it comes to engine health, one of the quickest ways to catch hidden faults is to cold start the car. If the car doesn't start easily, there could be a problem with the battery or the starter motor. While you're looking around the car, let the engine idle as this will give you a good indication about its general health. It should sound smooth and stable with no lulls in power. If you are in any doubt about the health of the engine or other mechanical aspects of the car, the best thing to do is to bring an expert with you.
Exterior
Before viewing a used car, make sure that you're not seeing it in a place which is dark as this can disguise dents, scratches or rust. Make sure you check that the colour of the panels do not differentiate from each other. If the vehicle does have some cosmetic damage, but everything else is fine, you may be able to negotiate a better price with the seller.
Once you've examined the bodywork of the car, make sure that you check that all the doors open and close correctly and that they line up properly with each other. If the hinges look like they're straining, this could be a sign that the doors have folded back over, so make sure to ask the seller more about this.
When examining the car's exterior, double-check the front and rear windscreen for any cracks or small chips, as these could expand and lead to you having to replace the windscreen.
You should also check whether the boot opens and closes properly and ensure that the spare tyre is in place under the carpet. Make sure you look inside the boot at the rear of the car for signs of damage, as this will reveal whether the vehicle has had a rear end accident or not.
Tyres and wheels
When you go to inspect a used car, it's useful to bring along a torch so you can check the wheels, brake thickness, brake pads, and brake disks. If these are low, that's fine, but you should negotiate a lower price for the vehicle to cover the cost of replacements.
Grazes to the wheels are common, and not often cause for concern, but check all four wheels and the spare to ensure they're not badly dented or bent. Similarly, all the tyres should be free from cuts, splits, gouges or bulges and they should all have at least a 1.6mm deep tread all over. Uneven tyre wear can indicate poor wheel or suspension alignment and means the tyres will need replacing.
Interior
It's important to check that all the dashboard lights are working correctly before you purchase a used car, as the vehicle will fail its MOT if they don't. Each light, including those for the engine management, AVS light, and the airbag light should illuminate and turn off automatically when the engine is started.
Other electricals you should check include the air conditioning, lights, windows, radio, and the central locking, as you will need to budget for repairs if these don't work properly.
The condition of a car's interior is also another good indication about whether the mileage is genuine. If a car has lower mileage, the interior should look relatively new. A tired, or worn steering wheel, seat bases, and side bolsters could be a sign that the seller is hiding something. Tears in the upholstery or burns in the seats are also another thing to look out for. If you're unhappy with the condition of the car's interior, you may want to negotiate a reduced price and have issues repaired.
Test Drive
After you've performed all the checks on the car you're thinking of buying, the final thing to do is to take it for a test drive. Before you do this, you should check your car insurance policy to find out whether you have DOC cover and can drive the car with the owner's permission.
You should drive for at least 15 minutes and try to take different road types and go at different speeds. While driving you should listen out for strange engine noises and check that it feels smooth to change gears. If anything feels amiss when you're driving then you should probably consult an expert before purchasing.
ASM can help you find the best used car
We hope this checklist for things to check when buying a used car provides some useful starting points on your journey to buying a great value second-hand vehicle. We also have a guide to the best used family cars and best second hand small cars to buy.
Are you already on the hunt for a bargain? ASM Auto Recycling is home to a consistently healthy stock of repairable vehicles, offering regular online auctions supported by our site in Thame, Oxfordshire. For help buying used cars at online auctions, read our full guide.
As an Authorised Approved Treatment Facility, we can also buy unwanted used cars to be scrapped, recycled, and resold where possible. Contact us today to discuss your needs.
later post  |  index  |  earlier post
---